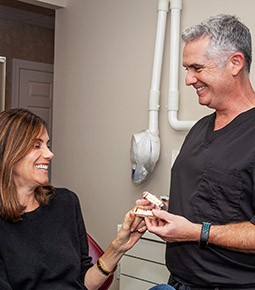 Let's Get To Know Each Other
We are grateful that you are giving us the opportunity to get to know you and we want you to feel at home from the moment you first walk in our door. We hope to provide a comfortable environment to make you and your family at ease, and we welcome the chance to earn your trust in our team.
If you have not already done so, please contact our office to schedule an appointment. Here's everything you need to prepare for your first visit:
Fill out the new patient paperwork prior to your appointment. If you are unable to fill them out online, you may do so here in our office. Please allow an extra fifteen minutes before your scheduled appointment time to complete these in person.
Call your previous dentist to have any recent x-rays sent to our office. You can tell them to email us your x-rays at info@bellamydds.com
Make sure you bring your insurance card to your appointment. Please click here for more information about insurance at our practice.
If your first visit is for an urgent problem or pain, you will have an exam with Dr. Bellamy and his assistant to address the tooth (or teeth) in question. Depending on the diagnosis, we may then schedule you for treatment or refer you to one of our trusted specialists. Our goal with emergency care is to free you from pain or discomfort as quickly as possible.
Our dental family prioritizes making you feel at home. We strive to provide the highest standard and value in personalized dental care, just as we would expect in our own care. We look forward to welcoming you to our family!